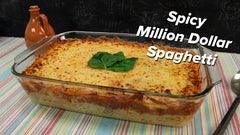 This week, I wanted to return to the viral million dollar spaghetti because I personally love the combination of Alfredo sauce and spaghetti sauce. The rich and creamy flavor of the alfredo mixed with zesty acidity of the tomatoes makes for a sauce that is perfect for practically any pasta dish. Be it vegetarian ziti, linguini with shrimp or grilled chicken, I bet even ditalini and our Halal Italian meatballs would be great with this sauce! However, the one thing I wasn't sure of was how to improve this sauce. The richness is great, but at the time when we made the previous version, I felt like it needed something. 
After just over 8 months since our previous iteration of this recipe, it struck me: bring the heat. So often in our blogs we talk about how to spice up a recipe or heat it up, and somehow it never occurred to me to just add some heat to it but, that's all it took to evolve this recipe from viral trend to permanent kitchen staple! 
Now, there are many ways to add heat, but my personal favorite way is throw in our jumbo beef hot links. Our hot links have a secret ingredient that amplifies the flavor and the heat while maintaining that delicious flavor it's known for. Because of that,  this link is a perfect stand in for any spicy sausage or recipe that requires a spicy sausage or link. For this recipe, we decided that we'd cut the hot link into small chunks, rather than slices. The thought behind this was the type of noodle we used. I've found that small pieces are easier to get onto a fork with long noodles as opposed to slices. This helps to get all the flavors into every bite.
That's it for this week's recipe! Let us know if you tried this recipe on our instagram or the comments section on the youtube video!