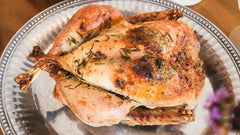 This flavorful and fragrant chicken is rubbed with rosemary, thyme and safe for a delicious take on roast chicken.   It is hard to go wrong with this basic recipe.  You can order your Midamar Halal Whole Chicken online or pick up at your local market.  
Preparation time:  20 MINUTES
Serving size:  4
Product used:  Whole chicken
INGREDIENTS:
2 tsp. chopped fresh rosemary, plus 1 sprig, 4 inches long
1 tbs. chopped fresh thyme, plus 3 sprigs
2 tsp. chopped fresh sage, plus 1 sprig
1/4 cup extra-virgin olive oil, plus more for rubbing
2 tsp. kosher salt, plus more, to taste
Freshly ground pepper, to taste
1/2 small yellow onion thinly sliced
3 large garlic cloves
INSTRUCTIONS:
Preheat an oven to 425 degrees.


In a small bowl, stir together the chopped rosemary, thyme and sage and the 1/4 cup olive oil, and season with pepper. Gently separate the skin from the Whole Chicken with your fingers, being careful not to tear the skin. Slip the herb mixture between the skin and flesh and rub it evenly over the exposed meat, covering it as much as possible. Pat the skin back into place.


Rub the chicken pieces all over with olive oil and season well with salt. Then place the remaining rosemary, thyme and sage sprigs, with the onion and garlic on top of the chicken in a roasting pan.


Roast the Whole Chicken until the juices run clear, about 45 minutes to an hour. Remove onion, garlic and herb sprigs, transfer to a plate and serve while hot.