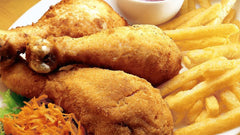 Ingredients:
1 Pkg of

 

Midamar Halal Chicken Drumsticks

 (8 drumsticks)

1 tsp Salt 1 tsp Pepper
1 tsp Paprika Canola or Corn Oil
3 Eggs
1/3 Cup of Water
2 Cups of Self-Rising Flour
Directions:
Heat oil in a skillet to 350 degrees. Keep at medium high heat once temperature is reached.

Beat eggs with water in a bowl

In a second bowl, mix flour with pepper, salt and paprika.

Carefully add 

chicken

 to the frying pan. Do not overcrowd the frying pan, the chicken needs space to cook completely.

Fry on one side for 5-7 minutes and then turn the 

chicken

 over and fry on the other side until brown and crisp on both sides.

Once internal temperature has reached 165 degrees, remove from pan onto paper towel to remove excess oil.

Let 

chicken

 cool for a few minutes before serving!