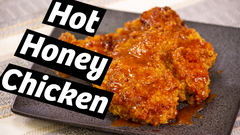 I've been hearing about hot honey chicken for a while, whether it's youtube ads or some other online posting, but I've never made. I got to thinking about it, and it occurred to me that this would be the perfect opportunity to try a new technique I learned from a technique book by America's Test Kitchen for oven frying things. Now, in the book they cook fish sticks and onions rings, so I thought I'd adapt the onion ring recipe over to this hot honey chicken.
This was a really fun recipe for me, if I wasn't filming I think it would've been done in about 45 minutes to an hour which to me is the perfect amount for an easy, tasty after work dinner and there's really minimal clean up as well.
The only thing I would say is that this recipe wasn't as hot as I was hoping for, it still had a little bit of heat but I think I could've kicked that up a bit. To that end, if you like your chicken extra spicy I would suggest doubling or tripling the hot sauce used in the hot honey sauce and maybe doubling the cayenne as well. That said, if you prefer your chicken to be mild, stick with the amounts below. It'll give you a little bit heat but not an overwhelming amount. Last note, the hot sauce amount is based on the sauce you use. I used El Yucateco Chile Habanero sauce, which was definitely spicy on it's own, but the extreme sweetness from the honey really neutralizes that heat. To that end, if you use your own favorite hot sauce, the amount used will be up to your discretion!
That's it for me this time, if you want to check out how I made this click the video below or keep scrolling for the full recipe.
1 package of chicken thighs from our poultry section!
2 cups (about 1 bag) of Kettle cooked chips, crushed in a food processor
3 tbsp canola or vegetable oil
Dry ingredients:
2/3 cup flour
1 tsp garlic powder
1 tsp onion powder
1 tsp chili powder
1 ½ tsp smoked paprika
½ tsp Cayenne (use more to taste for a spicier chicken)
1 tsp sea salt
Wet Ingredients:
1 large egg
½ cup butter milk
Hot Honey Sauce:
5 tbsp honey
1 stick of butter, melted
1 ½ tsp chili powder
1 ½ tsp smoked paprika
1 tbsp hot sauce (more if you want hotter)
1 tsp cayenne (optional, for hotter sauce)
Instructions:
In a medium mixing bowl, combine all dry ingredients and whisk thoroughly, in a small mixing bowl, combine the wet ingredients, and in a large pie glass (or anything similar) place the kettle cooked chips.
Once wet ingredients are combined, add an 1/3 cup of the flour mixture and beat with a fork until a thin batter forms.
With gloved hands, dip chicken thighs in flour mixture, being sure to move the chicken around to ensure even coating. Then dip in batter, again making sure that chicken is evenly coated. Finely, place chicken in crushed chips and gently press to coat the exterior in the chips. Set chicken on a plate and repeat for remaining chicken thighs and let rest for 30 minutes.
In the meantime, set oven rack to the middle high and middle low positions and heat oven to 450°. After 20 minutes has passed, grab a high rimmed pan and place in 3 tbsp canola or vegetable oil. Put pan in oven and heat for about 8 minutes. Carefully tilt pan to see how the oil moves, once it moves like water it is ready.
Remove pan from the oven and place chicken. Return pan to the oven and cook for 8 minutes.
In the meantime, combine all the ingredients for the hot honey sauce, whisk until a slightly thick sauce forms.
After 8 minutes, remove chicken from the oven, flip the chicken, rotate the pan, and cook for an additional 10 minutes. Remove from the oven once breading is golden brown.
Season immediately and serve while hot with hot honey sauce