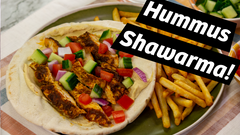 Happy national hummus day everyone! I've really got to ask, who makes these days? I suppose it doesn't really matter, it gives me an excuse to share this awesome recipe! 
This time I chose to butterfly the chicken breast and pound it to about 1/2 inch thickness before placing it in a zip top bag and marinating in Wild Gardens Shawarma marinade. Speaking of that... You can get marinades and sauces now over on our grocery tab! These marinades make cooking so much easier and allows for me to focus on recipes like the hummus.
This hummus recipe is a lot different than what I'm used to. My family typically makes hummus less smooth but I thought, "I should try to make it how other people like it, and see how it goes," and so here we are! Ultimately, I liked this hummus different than what I grew up with. It's lighter on the flavors so it would great as a dip for carrots or an easy to spread dip on sandwiches of any kind. Also, do yourself a favor and serve this sandwich with air fried french fries. We don't sell those but man, this sandwich is so good when you throw fries on there, not to mention it's a classic way to enjoy this dish. Actually, my whole family ended up coming to the shoot and we shared nice dinner after I finished filming; so it's a great family dinner food too!
If you want to see me make this, check out the video below or keep scrolling for the written recipe!
Ingredients:
1 lb Chicken Breast, available here!
1 packet of Wild Gardens Shawarma
Pita Bread
Tomatoes, diced
Red Onion, diced
Cucumbers, diced
French Fries
Ingredients for Hummus:
1 Tbsp Garlic, minced
1/4 cup Lemon Juice
2 Tbsp Tahini
1 can of Garbanzo Beans, drained (reserve liquid from can)
2 tbsp Olive Oil
Salt
Instructions:
1) Butterfly chicken, and pound to 1/2 thickness. Place in a zip top bag with shawarma marinade. Remove as much air as possible and massage marinade until the entire breast is covered. Place in a fridge and marinate for 30 minutes.
2) In a food processor combine garlic, lemon juice, and tahini. Pulse 3-5 times or until creamy. Add 1/2 can of garbanzo beans, about 1 tbsp of reserved liquid, olive oil, pulse 5 times or until smooth. Add remaining garbanzo beans, salt to taste, and about 2 tbsp reserved liquid, pulse an additional 5 times or until smooth. Taste, add additional garlic and lemon juice to taste.
3) Remove chicken from bag and fry until no pink remains, about 7 minutes. Remove chicken to a cutting board and slice into thin strips.
4) Microwave pita for 30 seconds, spread with hummus. Top with chicken, tomatoes, cucumbers, and onion. Serve with french fries and enjoy!