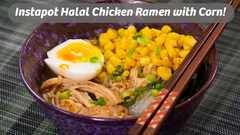 This week I felt like Japanese food, and what is a more classic, or perhaps common, dish than ramen? Probably teriyaki, but that's another video for another time! This ramen is extremely simple to make, and the beauty of ramen is it's ability to modified however you like. Don't like/ can't find bok choy? Replace it with bean sprouts. Or add any of your favorite vegetables, it may not be "authentic" but authenticity loses to tastiness every time.
That said, I was skeptical about the soft boiled egg. Now, I know this is a punishable offense, but I don't really like eggs in any capacity. I don't mind them in other things, but like... If I can avoid eating an egg I will at almost any cost. But! Sometimes, you gotta take a lil risk, sometimes you gotta get a lil crazy, and ladies and gentlemen? I ate the soft boiled egg; I know, I know, hold the applause! The yolk complemented the other flavors in the soup without being over-bearing on and I found that I actually quite liked what it brought to the over all experience. That said though, I let my brother and dad eat the egg whites... 
No matter how you enjoy this tasty soup, there will always be something to please. To get the Halal chicken and organic vegetables, head over to our poultry and vegetables sections, or click the ingredients below to be taken right to those pages!
Ingredients:
4 eggs
1 package Sno Pac Organic Sweet Corn
~8 oz Bok Choy
4 cups Chicken Broth
2 Cups Water
4 Green Onions, keep the white parts and thinly slice the green parts
Salt and Pepper, to taste
1 1/2 Tbsp Vegetable Oil
2 blocks of Ramen Noodles (you can add the flavor packet if you'd like, I didn't but, I bet it'd be good)
2 Tbsp Soy Sauce
Hot Chili Oil (I used one that had garlic and onion flavor infused and it was incredible, believe it was called Mongolian Fire Oil)
Instructions:
1) In a pot, boil enough water to cover your eggs, about 4 or 5 cups. Once boiling, add eggs and cook for 5 - 7 minutes. Remove from water to an ice bath and let sit for 5 minutes. Gently peel shell from eggs and set aside
2) Coat both sides of chicken in salt and pepper. Set the instant pot to sauté mode, once hot add vegetable oil and chicken. Brown the chicken on both sides. Once browned add the chicken stock, water, and the white part of the green onions to the pot. Cover and pressure cook on high for 10 minutes
3) Release the pressure and wait until it's safe to open the lid. Once open, set the pot to sauté. remove the white part of the green onions and throw it away. Remove chicken to a plate and shred and wait until the soup begins to boil. If the soup won't come to a boil, partially cover the pot with lid and check every few minutes
4) Once boiling, add the shredded chicken and the ramen noodle blocks to the soup. Boil for 5 minutes, mix the noodles and cook for an additional 3 minutes or until noodles hit desired doneness 
5) Turn the sauté mode off and add soy sauce and bok choy. Again, partially cover the pot with the lid, check back in a few minutes. Once the bok choy is wilted and the stems are soft the soup is ready to eat
6) Cut the eggs in half and place desired amount on soup. Cook Sno Pac corn according to package instructions and place 2 - 3 Tbsp of corn on soup, top with chili oil and enjoy!
And that's it for us this week! Make sure to let us know on instagram or facebook if you try this and make sure to make an account and follow us for extra points!