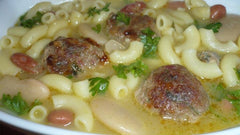 Our favorite 
#Ramadan
#Iftar
 Soup Recipe - 
Midamar Halal Meatball 
and Bean Soup. Delicious and hearty! 
Midamar Italian Style Meatballs
 come prepared and frozen in 5 lb bags in the bulk section of 
www.midamarhalal.com.
 You can put them in soup, pasta, make meatball subs, or just eat them plain. Just warm them in the oven or fry them in a pan (my favorite). Then add them to your favorite soup: They are pre-cooked so they'll will be done in minutes.
Ingredients:
8 cups of vegetable broth
2 cans of white beans
2 cans of red beans
1 onion
1 tablespoon of minced garlic
1 cup of diced celery
2 cups of macaroni noodles
2 tablespoons olive oil
Salt and pepper to taste
Parsley for garnish
Directions
1. In a large pot, fry onion, celery and garlic in olive oil over medium heat. Add vegetable stock salt and pepper. When stock boils add pasta and let it boil for 10 minutes.
2. Add beans and let simmer on low heat for 20-30 minutes.
3. Add meatballs to soup.