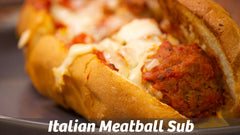 I love Italian Meatball Subs. When I was a kid we would make them on occasion at home and it was always my favorite weekend dinner. At the time though, Midamar didn't make fully cooked meatballs so we had to spend time make the meatballs, and when you're making meatballs for 2 young boys, a dad, and a mom all of whom are almost definitely going in for seconds, it takes some time. But now? I live alone, and it's much easier to grab some Midamar meatballs and fix up a tasty sub after work! Plus Midamar's meatballs are fully cooked so all it takes is for me to heat them up and they're ready to eat which is convenient on nights where even I don't feel like cooking.
This sub calls for provolone and fontina, both freshly shredded but bagged stuff will if you don't feel like grating it yourself… but I mean cheese is a gift, and thus we should prepare in the best way! That said though, ya boy also takes the easy route from time to time… Side note: The meatball marinara recipe that follows also works perfectly for spaghetti and meatballs although I would add ¾ cup to 1 cup of water to make the sauce moister. The following version is thicker because I like a hearty sauce on my meatball sub!
Click the video below to see how I made this or keep scrolling to read the full recipe!
Ingredients:
2.5 lbs Midamar Fully Cooked Italian-Style Meatballs
2 cloves of garlic, minced
1 tbsp olive oil
6 oz tomato paste
28 oz can of whole peeled tomatoes
1 tsp sugar
1 tsp salt
1 tbsp basil
1 tbsp oregano
4-8 sub rolls, sliced like hot dog buns
½ stick of butter, melted
8 oz block of provolone, shredded
4 oz fontina, shredded
Instructions:
1) Add garlic and olive oil to a dutch oven, cook until fragrant. Add tomato paste and cook for 2 -3 minutes
2) Add whole peeled tomatoes, sugar, salt, basil, and oregano. Mix to combine, cover and simmer for 15 minutes
3) Add Midamar Fully Cooked Italian Style Meatballs, cover and simmer for an additional 15 minutes. If sauce is too think add ½ cup of water and bring to a boil for 10 minutes
4) Using a basting brush, paint sub rolls with melted butter and toast over medium heat in a non-stick skillet
5) Lay each roll into a large sheet pan. Combine cheeses in a mixing bowl and layer each bun with cheese, then meatballs and sauce, and finish with a final sprinkle of cheese
6) Bake subs at 425° for 5 minutes – 10 minutes. For a browner cheese broil for ~5 minutes checking every minute
That's it for me this week, check us out on Facebook and let us know if you made this and how you made it your own! Be sure to check us out on Youtube and follow us on Instagram as well to keep up on all of our delicious Halal recipes. Thank you from all of us Midamar!