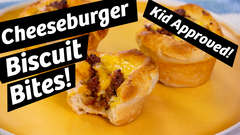 This week we decided to focus on quick and easy, but very tasty, foods for kids. I thought about what foods were my favorites when I was kid, usually, they were foods that were quick to grab, easy to prepare (or eat cold in some cases) and tasty. I can't say that I've tried this recipe cold, but I can tell you that it is both quick and easy to grab while also being extremely tasty. All things considered this recipe could be made in about 20 or 30 minutes, depending on how leisurely you approach the cooking.
Now let's talk specifics; starting off we have cheese. I used medium cheddar for this, you could literally any cheese and it would work. Want a little spice? Pepper Jack. Want some cheese pull? Mozzarella. Want something unique? Try a gouda or gruyere, both are quite tasty. Next up is the refrigerated biscuits, what brand to use? I think pretty much any brand would work, however, if you don't use large biscuits, or in my case "grands," decrease the cooking time from the video. I don't think it'll ruin it, but I haven't tested it. Finally, the beef. Now, this is the first time I don't show the actual cooking of the beef in the video and that's mostly because… I just browned it. No salt, no pepper, just cooking through. Then to that I added ketchup, mustard, Worcestershire sauce, and brown sugar. I think if you wanted to mix up the classic formula you could mess with the mustard and ketchup. Maybe use Dijon mustard or some kind of spicy mustard instead to give this a little extra oomph. Again, this is a do at your own risk kind of situation, I haven't done it myself, but I'm betting it's just as good!
But I think that's everything for me this week, check the video below if you want to see me make this or keep scrolling to see the full written recipe!
 Hit this link to see the vid: https://youtube.com/shorts/0sSzCNRXL94?feature=share
Ingredients:
1 lb Midamar Ground Beef
1 tbsp mustard
½ ketchup
1 tsp Worcestershire sauce
2 tbsp brown sugar
2 tubes refrigerated biscuits
Medium cheddar block, cut into cubes
Instructions:
1) Brown ground beef and drain drippings. Return beef to heat add mustard, ketchup, worcestershire sauce, and brown sugar. Mix to combine and bring to a light simmer. Cook until sauce thickens, about 3-5 minutes
2) Spray a muffin tin with non-stick spray, flatten biscuits with hands or rolling pin, lay inside muffin tin slots and press to form a cup
3) Fill biscuits with 2 blocks cheese, beef mixture, and top with 3 more blocks of cheese. Bake at 400° for 15-17 minutes or until golden brown
That's it for me this week, check us out on Facebook and let us know if you made this and how you made it your own! Be sure to check us out on Youtube and follow us on Instagram as well to keep up on all of our delicious Halal recipes. Thank you from all of us Midamar!