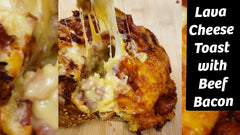 This week we're checking out some trendy and tasty recipes from social media, starting with lava cheese toast with halal beef bacon!
This recipe is simple and delicious, simply combine the first 6 ingredients over medium to medium low heat, add cheese and melt, then it's time for assembly! Beef bacon helps bring this social media trend from good to great. Try it out for yourself with Midamar Breakfast Beef or Midamar Turkey Strips and bring the smokiness into your meal!
Ingredients:
3-4 strips Midamar Beef Bacon, cooked and cut into bite sized pieces
1/2 cup milk
1 egg yolk
3 tbsp sugar
1 tbsp butter
1 tbsp cornstarch
1/3 cup cheddar plus more for topping
1/3 cup mozzarella plus more for topping
cream cheese
4 pieces of bread
Instructions:
1) In a pot, combine 1/2 cup milk, egg yolk, sugar, butter, and cornstarch over medium low heat. Whisk to combine and add Midamar Halal Beef Bacon bits and cheese. whisk until cheese is melted.
2) Spread cream cheese thin on 3 pieces of the bread. Stack the bread on top of each other, leave the piece with no cream cheese on top. Using a spatula or knife, making sure to leave the bottom piece intact. Cut a whole into the center of the bread and crush it down to create a bowl shape. 
3) Pour cheese bacon mixture into bread and air fry at 350° for 10 minutes
4) Serve and enjoy!