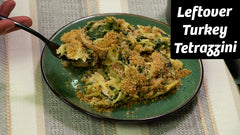 Wondering how to use leftover thanksgiving turkey? Try this recipe for Turkey Tetrazzini made Halal! This simple recipe is a great way to take pounds of leftover turkey and turn it into something more than just soup. 
As we finish up Thanksgiving, we always find that we have turkey for what seems like months, though we all know it really only lasts a week or so. That said, eating the same ole turkey, the same ole way, gets a little boring. That's why we've decided to show you a way to take that turkey and give it a second wind with this Halal Turkey Tetrazzini recipe.
This turkey tetrazzini recipe couldn't be any easier and that's why my family and I loved it. We start by frying up some mushrooms with garlic and butter, then we make a roux with some flour and cook it until a nice thick sauce is formed. Then we add cream cheese, Italian cheese, parmesan, Sno Pac Organic Spinach, available in our grocery section, and your leftover turkey. Simply place it in a casserole dish, bake, and viola! You've taken that same old turkey and turned it into an exciting new dish!
If you want to see me make this, click here or find the full written recipe below!
Ingredients:
~ 4 cups leftover turkey (or whatever you have left)
1 package of Sno Pac Organic Spinach, heated according to pack instructions and drained of liquid
4 tbsp butter, divided
4 cloves garlic, chopped
8 oz sliced mushrooms
4 tbsp apple cider  vinegar mixed with 3/4 cup water
1 tsp pepper and salt, or to taste
1 cup flour
4 cups chicken stock
8 oz package of cream cheese at room temperature (room temperature optional)
1 cup Italian cheese
1 cup grated parmesan
water as needed
3/4 box cooked bow tie pasta
1/4 cup Italian breadcrumbs
Instructions:
1) In a large pan or pot, melt 2 tbsp butter over medium heat. Add garlic and fry until fragrant, about one minute. Add Mushrooms and fry until tender, about 5 minutes. Add apple cider vinegar and water mixture, salt, and pepper. Stir and cook for about 2 minutes. Add 1 cup flour, stir and cook until liquid has reduced and sauce is starting to form. Add chicken stock. Bring to a simmer and stir occasionally until sauce has thickened and can coat the back of a spoon.
2) Add cream cheese and stir until fully incorporated. Add Italian cheese, parmesan, Sno Pac Spinach, and leftover turkey. Stir until all ingredients are fully covered in sauce. Add water, 1 to 2 tbsp at a time if mixture becomes too thick.
3) Place turkey mixture in a casserole dish, add cooked pasta, and mix until pasta is fully incorporated into the sauce. Melt the remaining 2 tbsp of butter and combine with breadcrumbs. Dust the top of the casserole with breadcrumbs. 
4) Bake at 350° for 20-02 minutes or until breadcrumbs are golden and sauce is bubbling. Remove from oven, let rest for 5 minutes, serve and enjoy!