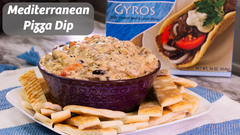 It is Friday! Which means it's time for another lil recipe from us at midamar, and what a recipe it is. Everyone here at the office liked this, which is rare considering artichokes seem to be a divisive vegetable. Even I was surprised at how much I liked this dip, in fact, I have a couple friends coming over this weekend and I intend to share this with them. This is also the first video that features a new line of vegetables to Midamarhalal.com from Al Saffy! These high-quality artichokes bring a wonderful flavor to the dip and many other things.
That's it for me this week, check the vid below if you want to see me make this or keep scrolling for the full written recipe!
Ingredients:
5-7 strips of Gyro Strips, cut into bite sized pieces
3-4 Al Saffy Artichokes, cut into bites sized pieces
8 oz Cream Cheese, softened and cubed
½ cup Cherry tomatoes cut in half
¼ cup Kalamata Olives (or more if you love them like I do)
10 oz Monterey Jack Cheese (preferably freshly shredded for the flavor)
1 Tbsp Basil
1 Tbsp Italian Seasoning
Pita bread cut into thick strips for dipping
Instructions:
1) In a large mixing bowl combine, artichokes, cream cheese, tomatoes, olives, cheese, basil, and Italian seasoning and mix well. Set Aside.
2) In a large pot, cook the gyro strips for 5 minutes, until fat renders and most of the strips are golden brown.
3) Add cheese mixture to the pot, stir continuously to make sure it doesn't burn. Once dip is melted and smooth serve in a bowl. Optionally, add about ¼ of milk to the mixture to make it smoother.
That's it for me this week, check us out on Facebook and let us know if you made this and how you made it your own! Be sure to check us out on Youtube and follow us on Instagram as well to keep up on all of our delicious Halal recipes. Thank you from all of us Midamar!