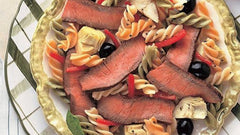 Ingredients
  

1 garlic clove, minced

  

3/4 cup extra-virgin olive oil, plus 3 tablespoons

  

1 pound Rotini pasta

  

1/4 cup balsamic vinegar

  

2 tablespoons Dijon mustard (alcohol free)

  

1/2 teaspoon salt, plus more for steak and pasta water

  

1/2 teaspoon freshly ground black pepper, plus more for steak

  

1/4 cup chopped fresh basil leaves

  

1/4 cup chopped fresh parsley leaves

  

2 cups of roughly chopped artichoke hearts
Directions
1.  Season the steak with salt, freshly ground black pepper and minced garlic. In a skillet, heat 3 tablespoons olive oil over medium heat. Cook steak about 7 minutes per side. Remove the meat from pan and let it rest for 5 minutes. Thinly slice the steak. Set aside.
2.  Meanwhile, bring a large pot of salted water to a boil over high heat. Add the pasta and cook until tender but still firm to the bite, stirring occasionally, about 8 to 10 minutes. Drain pasta, reserving 1/4 cup of pasta water.
3.  In a small bowl, whisk together the balsamic vinegar, Dijon mustard, 1/2 teaspoon salt, 1/2 teaspoon pepper, fresh herbs, and 3/4 cup olive oil. In a large bowl toss the pasta with half of the salad dressing and the reserved pasta water. Add the artichoke hearts and steak, more dressing, and season with salt and freshly ground black pepper, as needed. Toss and serve.