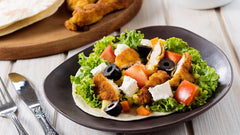 Ingredients:
1 package of soft tortillas
1 package of queso fresco cheese cut into small cubes
Lettuce
Tomatoes cut into small cubes
1 8 oz jar of your favorite corn salsa
Honey Money Dressing:
1/2 cup of mayo
2 tbsp vinegar
1/4 cup of mustard
1/4 cup of honey
1/2 tsp of salt
Pinch of cayenne pepper
Instructions:
1. Preheat over to 375° F
3. Place in the oven for 8 minutes and then turn them for an additional 8 minutes. Remove from the oven when crispy on the outside.
5. Warm your tortillas by wrapping them in a damp paper towel and microwave them for 1 minute. You can also warm them in the oven for 2 minutes on each side.
6. Lay tortilla flat and load up with all of your ingredients and wrap it!