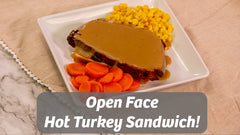 This week we're keeping short and... savory... with a home made hot turkey sandwich!
This is a classic midwestern diner meal. It's quick and easy, filling, and great cold days. The only down side? It's a little bad for you, so to alleviate that we're serving with meal with organic corn and carrots from Sno Pac, available here at midamarhalal.com of course. I have to say, this is a sandwich I rarely think about and I've never made it myself until I shot this video and I'm so glad that I did. This sandwich is so, so easy to make. Literally, it's making gravy and cutting the turkey, that's it. For that reason it's the perfect easy Friday night dinner.
There's really not much more to say about it than that, it's an easy, filling little meal that feels homey and tasty any day of the week. Check out the vid below to see me make this and we'll see ya next week!
Ingredients:
4 Tbsp butter
3 Tbsp Flour
3 cup Chicken Stock
1/8 cup Worcestershire sauce 
pepper to taste
Midamar Halal Oven Roasred Golden Browned Turkey Breast, cut into ~1/2 inch slices
Sno Pac Organic Sweet Corn
Sno Pac Organic Sliced Carrots
White bread, toasted
Instructions:
1) Melt butter in pot, add flour and whisk to combine
2) Once mixed, pour in chicken stock and Worcestershire sauce, whisk thoroughly and bring to a simmer. Simmer for 3 minutes, add pepper and cook until gravy is thick enough to coat the back of spoon. Once thickened, remove from heat and keep warm
3) Slice turkey, place in a hot pan over medium high heat and pan fry for about 2 or 3 minutes per side
4) Toast bread based on the number of people that are eating, place turkey on toast, cover with gravy and serve with carrots and corn