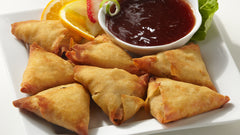 International Favorite, Halal Beef Samosas are delicious on their own or as a complement to any dish. This recipe is great, with any meat or with veggies only.
Ingredients:
3 large potatoes, peeled and diced
1 8 oz package of frozen peas
3 tablespoons vegetable oil
½ teaspoon cumin
2 onions finely chopped
1 heaping tablespoon chopped garlic
½ teaspoon grated ginger
½ teaspoon red pepper flakes
1 teaspoon pepper
2 teaspoons salt
1.5 teaspoon cumin
1 teaspoon each of coriander, turmeric, chili powder
½ teaspoon each of cinnamon, cardamom, cayenne
16 oz safflower oil
2 eggs
¼ cup cold water
50 egg roll wraps
1 cup of plum sauce
Instructions:
Boil water in a medium pot. Peel potatoes. Add salt, potatoes and frozen peas and cook for 15 minutes. Take potatoes out and set aside to cool. In a large pan add 3 tbsp oil and sauté
Midamar Halal Ground Beef
and onions. Add garlic, ginger, pepper flakes, black pepper, salt, cumin, coriander, turmeric, chili powder, cinnamon, cayenne pepper and cardamom and potatoes. Remove from heat and chill in freezer for 15 minutes. While cooling the potato mixture, beat the egg and add water. Heat 16 oz of oil in a large sauce pan or fryer on high heat. Brush both sides of a spring roll wrapper with egg-wash. Put about 1 tablespoon of
Halal Ground Beef
Mix and potato mix in the corner of the wrapper. Fold into triangles pressing edges together making sure edges are sealed. Fry until golden brown 2 or 4 minutes. Put a paper towel on a plate and put the fried samosas on the paper towel. Can be eaten cold but taste better warm. Serve with plum sauce or chutney.