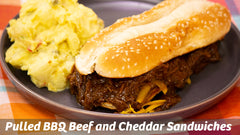 The month is June, the weather is nice, the time is now. Let's do this. Starting off our month of cookouts is Pulled BBQ Cheddar Sandwiches featuring delicious chuck roast from United Steaks of America by Midamar! And that name couldn't be truer, here at Midamar we only use meat from here in the United States, so you know you're getting the best beef money can buy, and with this recipe? You get all the flavor of going to a BBQ restaurant, with all the good clean Halal of home!
Not to mention these pulled sandwiches are awesome. I'll tell you, I don't really care for barbecue. It's not that I don't like it but, I never crave it and I'd never choose it when going out to eat. But my job is to cook, and my dad and brother love BBQ so cook barbecue I must! And I gotta say, I'm glad I did, because these are awesome. Super flavorful beef smothered in barbecue sauce and slow cooked all day, and night if you're like me and didn't start letting it cook until about 1 in the afternoon. This is super easy, goes great on toasted sub sandwich bread and is only made better with some nice strong sharp cheddar to compliment the flavor of the beef and seasonings. Right now, we have it sitting in the kitchen at the office and writing about it is making me want some! I think the only thing I'd do to change this for next time is that I'd double or triple the seasoning that goes on the meat, except the salt and I'd consider ladling out some of the rendered fat. It's just a bit much for me.
I think it's time for a late lunch! Keep scrolling for the full written recipe and to see how I made these sandwiches here at the office:
Ingredients:
4 lbs of United Steaks Of America Chuck Roast (2 packages)
2 Tbsp Canola or Vegetable Oil
1 Tbsp Brown Sugar
1 tsp Pepper
1 tsp Onion Powder
1 tsp Garlic Powder
1 tsp Salt
½ cup water, optional
1 small bottle of your favorite BBQ sauce (about 4 cups)
1 block of sharp or extra sharp cheddar
Hoagie buns
Potato salad for serving
Instructions:
1) In a pan or dutch oven, heat the oil and brown the beef on all sides. Set beef on a plate and let cool. About 10 minutes. In a small mixing bowl combine brown sugar, onion and garlic powders, pepper, salt and whisk to combine
2) In a slow cooker place the roasts and thoroughly coat in seasoning mixture, add water if using and cook on low for 8 hours or high for 5 hours. Drain ½ of liquid (optional), and add BBQ sauce. Cover and cook on low for 1 hour
3) towards end of hour, shred cheese and toast hoagie buns
4) Place shredded cheese on toasted hoagie, then place pulled beef, top with other half of hoagie bun and serve with potato salad
That's it for me this week, check us out on Facebook and let us know if you made this and how you made it your own! Be sure to check us out on Youtube and follow us on Instagram as well to keep up on all of our delicious Halal recipes. Thank you from all of us Midamar!