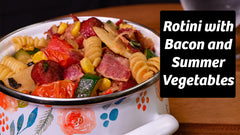 Hello everyone, I hope you had a great week! I did, because I found yet another easy recipe to add to the ever expanding list of things I like to make after work. This recipe is simple, and really it can be made with whatever you have on hand. 
A good example of this is the addition of Midamar's Halal Jumbo Hot Link. I had these sitting in my fridge and thought, "I bet some heat in this would be great," and it was. First, I sliced up the Halal beef bacon and hot links, chopped up the onion, zucchini, and garlic. Something I learned awhile ago was to replace the oil for frying the vegetables with the fat from the beef bacon. This will infuse the veggies with a nice smokiness and the heat from the bacon and hot links into the veggies. You could cook the hot links and beef bacon together, but I'd caution against that. It might seem like it'll save you time, but you'll end up having to remove the hot links before the bacon is cooked fully because they'll cook faster(generally). Once that's done, I added the vegetables. The veggies will cook at different speeds, so I would suggest cooking the onion and garlic first for about 3 minutes, then the zucchini, then the tomatoes and corn.
You may be wondering, "Why add the tomatoes so late? Won't they take a long time?" The answer to that question, is yes but, we add the tomatoes late because we are intentionally trying to preserve the tomatoes bite. We want the tomatoes to burst, but we don't want tomato sauce. Once I added my tomatoes and corn, I covered the whole thing with a lid and let it steam for about 10 minutes or so. This got many of the tomatoes to the bursting point, but some needed a little help. If you have some that won't burst, just grab your spatula and press them gently to pop them. Give everything one last good mixing and remove it all a large mixing bowl. Alternatively, you could just remove it from the heat and leave it all in the pot you cooked it in, but you need to make sure that it's big enough. My pan was too small, so I opted to use a bowl. 
From there all we do is add the noodles, parmesan, basil, salt and pepper as needed and that's it! With that click here to see me make this or keep scrolling for the full written recipe! 
Ingredients:
1 package Midamar's Halal Breakfast Beef (aka Beef Bacon)
1 package Midamar's Halal Jumbo Hot Links
1 small yellow onion, chopped
2 large cloves of garlic, chopped
1 medium green zucchini, chopped
1 pint grape tomatoes
1 package Sno Pac Organic Corn
8 oz rotini ( or similar pasta), cooked
1 tbsp shredded parmesan, fresh
5-8 slices of freshly sliced parmesan
Instructions:
1) Slices bacon into inch long pieces and begin cooking. While Bacon cooks, slice hot links. Once bacon reaches desired crispness, remove with a slotted spoon. Add hot links and cook until browned on each side, remove to the bowl with the bacon.
2) In the drippings add garlic and onion, cook for about 3 minutes or until onion is starting to become translucent. Add Zucchini and cook for an additional 3 minutes. Add tomatoes and Sno Pac Organic Corn, mix well. Cover and cook for 15 minutes, stirring occasionally. Once tomatoes burst, remove from heat to a large mixing bowl.
3) Add rotini (or other pasta), meat, parmesan, salt and pepper (if desired) and mix well and enjoy!