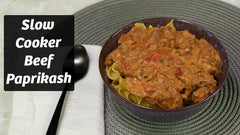 Sometimes, the easy route is the best route, that's why today we have an extremely simple recipe for slow cooker beef paprikash using Halal beef stew meat from us here at midamarhalal.com!
This Halal beef paprikash is an easy and delicious recipe for any time of year, but it's especially good during winter. All you have to do is toss the beef with some seasonings, combine the sauce ingredients, pop it all into your slow cooker and then you just have to wait!
That's all for me this week, check the full recipe below or click here to watch me make this!
Ingredients:
1 medium onion, sliced

2 pounds cubed beef stew meat (about 1- to 1 1/2-inch pieces)

2 tablespoons all-purpose flour

Kosher salt and freshly ground black pepper

2 red bell peppers, stemmed, seeded and coarsely chopped

2 cloves garlic, minced

1/2 cup low-sodium beef broth

2 tablespoons sweet paprika

2 tablespoons tomato paste

1 teaspoon caraway seeds, crushed

1/2 cup sour cream

1/4 cup freshly chopped dill and/or parsley

Hot boiled egg noodles or potatoes, for serving
1) Toss beef stew meat with flour, salt, and pepper. Combine broth, paprika, tomato paste, and caraway. Spread onions out in the bottom of slow cooker. Spread beef across the top of the onions, then top with garlic and chopped bell pepper. Cover with sauce, place lid on slow cooker and cook on high for 4 hours or until beef is tender.

2) Uncover and let rest for 5-10 minutes, stir in sour cream, dill, salt and pepper to taste and serve over egg noodles.