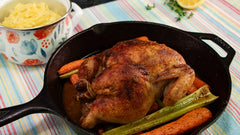 As fall moves in we decided that we'd go back to an item that we haven't used in a while: the Cornish hen! That said, this recipe would work just as well with one of the whole chickens that we also sell. 
For this recipe, we decided to keep it kind of simple and traditional with seasonings and stuffings. To start, we made a simple compound butter with some herbs and garlic to spread under the skin. This ensures that the hen, or chicken, will be juicy and seasoned well in the meat. Afterwards, we stuff it with garlic, lemon, onion, and thyme for aromatics as well as getting all that flavor to permeate the meat. Finally, we lay it on a bed of carrots and celery, spread olive oil all over the skin, season with salt and pepper, then top it with some paprika for color.
We also decided to serve this bird with mashed potatoes. If you wanted to add more to this though, I would suggest picking up some of the organic vegetables from our site. You can find them under the grocery tab!
This dish works great as a nice meal at home by yourself, however, if you wanted to make this for more increase the number of Cornish hens to 1 per person and you'll have a quick and impressive meal for all your guests!