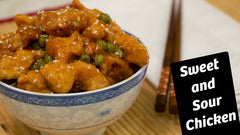 I love Asian foods of all kinds. Sushi, ramen, tom yum soup, pho, you name it, I've likely had it, or I like it. With that said, I decided to make another childhood favorite of mine, sweet and sour chicken. 
I don't typically fry things, the smell it creates takes days to go away, but sometimes? Sometimes you gotta heat up that oil and get cooking! So, to try and get as close to restaurant style as we could, we battered and fried our chicken before making a nice sweet and sour sauce. We thought we could add some color and flavor variety but tossing in half a bag of Sno Pac Organic Peas, available in our grocery section for your convenience.
Other than that, this Halal sweet and sour chicken is good and saucy to make sure you can serve this with a helping of white rice. 
If you want to see me make this Halal sweet and sour chicken recipe, click here or see the full recipe below!
Ingredients:
1 zabiha halal chicken breast from Midamarhalal.com, cut into bite sized pieces
1 tsp red wine vinegar
1 tsp water
~1/2 tsp salt and pepper or to taste
1 egg yolk
4 tbsp corn starch
2 tbsp ketchup
2 tsp sugar 
1.5 tsp white vinegar
1 tsp vegetable oil
3/4 cup water
1-2 tbsp sesame seeds
1/2 package of Sno Pac Green Peas
Instructions:
1) Combine red wine vinegar, water, salt and pepper, and egg yolk in a medium bowl and whisk. Add 4 tbsp corn starch and chicken cut into bite sized chunks. With a gloved hand, mix chicken until thoroughly covered in batter
2) Fry chicken in vegetable or canola oil until golden brown, remove to a plate lined with paper towels
3) In a large, high rimmed pot, combine ketchup, sugar, white vinegar, vegetable oil, and water and whisk over medium heat until thickened, about 5 minutes
4) Add chicken and toss to coat, add sesame seeds and sno pac peas. Mix again and serve over rice