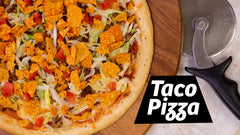 This week we decided to make a quick and easy taco pizza at home! We've used Midamar's taco seasoned beef a lot recently but... it's so good. It's also so easy to use, you heat up however much you want and leave the rest frozen and that's it. Personally, I love taco pizza, I know it's a midwestern choice normally, but if you have to try it.
Taco pizza comes in a multitude of ways, and today I'll be focusing on my two favorite ways to make it. For starters, a taco pizza is essentially different based on sauce. I made a refried bean sauce for one and used taco sauce for the sauce on the other. If you're going for a recipe that's as easy as possible, I'd do the taco sauce based recipe, but if you have a 5 extra minutes the refried bean sauce is just as good. So, that's sauces sorted, but what about toppings?
Toppings are the other big piece of what separates varieties of taco pizza. Some used just taco meat, other's used taco meat and beef topping, but the standard toppings are: beef, lettuce, tomatoes, and nacho chips. But that's just the starting, from there literally anything you could put on a taco can on this pizza. Onion, olives, peppers, hot sauce, corn if you're feeling really daring. 
No matter how you make taco pizza, it is one of the best way to mix up pizza night! Don't want to make it yourself? Tell your local pizzeria to call Midamar! We have a full line of pizza toppings products that everyone can enjoy.
Want to see me make this? Click here or Check below for the full recipe!
Ingredients:
Midamar Cooked Seasoned Halal Beef Topping
Midamar Cooked Halal Beef Topping
2 premade pizza crusts
6 oz Mozzarella (freshly shredded is best but pre-shredded is fine here)
6 oz Sharp/Medium Cheddar (freshly shredded is best but pre-shredded is fine here)
Shredded Lettuce
1 - 2 tomatoes, Diced
Nacho chips, or preferred chip
Sour Cream, optional
1/4 cup taco sauce, plus more for topping and for 2nd pizza
1/4 cup pizza sauce
1 cup Refried Beans
Instructions:
1) In a small mixing bowl, combine refried beans, taco sauce, and pizza sauce and whisk until well combined
2) Lay out pizza crusts, on one ladle refried bean sauce until desired amount of sauce is reached or until it spreads evenly to the edge of the crusts. On the other crust ladle either the remaining refried bean sauce or enough taco sauce to reach the edge. Use the bottom of the ladle to spread sauces
3) Top each pizza with 3 oz of mozzarella and 3 oz cheddar. Alternatively, combine cheeses and top pizza with 6 oz total. Next, top with Midamar Taco Seasoned Beef and Beef topping of choice. 
4) Bake Pizza at 425° for 10-12 minutes or until desired crust is met. Remove from oven and let cool for 2-3 minutes
5) Top with shredded lettuce, tomatoes, nacho chips, taco sauce, and sour cream if desired