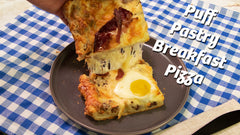 This week at Midamar we're making a favorite our of our halal bacon and halal sausage: the breakfast pizza! Ah, but this is no regular breakfast pizza, for we are making it with puff pastry.
Why use puff pastry rather than regular pizza crust? For starters, we found that the puff pastry gave our pizza a nice buttery bread to sit on, rather than a tougher more chewy bread. Additionally, it reminded us of a croissant, and who doesn't like a nice croissant in the morning? We also liked that we could pick up the puff pastry the night before and let it thaw in the fridge rather than making our own crust or using a premade pizza crust, which is usually pretty tough. After that came the sauce, normally, I don't have access to country style sausage gravy, and for that reason me and the team decided that making a halal version with our beef breakfast sausage would be something unique to throw on a breakfast pizza, but it also would give an extra breakfast-y layer to this pizza. Yeah, you can throw bacon on a pizza with some egg and call it a breakfast pizza, but by making our own country style sausage gravy, we're making this more like a sausage and biscuits crossed with a breakfast pizza. 
If you follow our recipe posts, then you know that my team and I will prepare the food we make for the videos and bring it around to all the other employees here at Midamar. When we brought it around, every single person in both our offices and our warehouse told us that it was delicious. Needless to say, we knew we had a winner on our hands after that! People all commented on the richness of the sauce and the crispness of the halal beef bacon and how it all came together so well. 
With that in mind, let us know what you thought of this recipe! What are some ways you made it your own? What are something you'd like to try on it? Finally, if you'd like to see us make this recipe step by step, check out our video below the recipe!