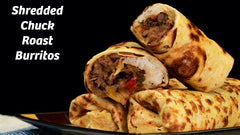 I love burritos, I don't think I've met a single person who doesn't like burritos. So, let's make it halal with our take on a chipotle style burrito!
In the past we've done smothered chicken burritos, 2 different styles of breakfast burritos (one with beef bacon and one with sausage) so, I decided it was time to add a shredded beef burrito to mix it up. In this recipe, I use an instant-pot. This tool is not necessary, although it does half the cooking time. So, if you don't have an instant pot put the roast in a dutch oven for 3 hours at 350° for 3 hours and add water as/if needed. I use tomatillo salsa in this recipe, which I've never tried before now, but it turned out quite well. That said, you could make this with any kind of salsa that you really like. Now let's get to the cookin' notes!
This recipe was extremely easy to make. It took time, yes, but it wasn't such a long an arduous process mostly because of how little there actually is to make. Really, all you need to do season your roast with garlic and onion powders, salt, and pepper. Then toss it in your instant-pot (or dutch oven) and let it slow cook. All that's left after that is to make your rice and fry up some vegetables!
 And that's it! If you want to learn how to make this, click here or see the full written recipe below!