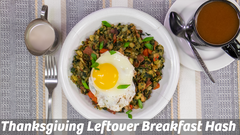 Happy holidays! I hope everyone had a great thanksgiving full of joy and family fun. This season is always busy but, it's almost always worth it, especially with the delicious foods flyin' around. Personally, I'm a huge fan of my mom's pecan pie. Plus, this year I decided I'd bring a lil taste of family background and I made grape leaves in my Siti's style. That said, let's get to the reason we're all here. 
Look, we all have leftover's. It's an inevitable circumstance that we all find ourselves in. This year, I thought I'd try something that I made a while ago that I really liked, a hash. It's simple, doesn't take long, and it's a great way eat through leftovers! So I present, Cassem's take on a breakfast hash made from leftovers. It's got our awesome new turkey bacon, a bunch of tasty sno pac veggies, and that's before I mention the leftover turkey, stuffing, and gravy. It's really a great way to start the day. Plus, you can add an egg if that's your thing.
Okay, no more distractions, let's get to the recipe! If you want to see me make this, check out the video below or keep scrolling for the full written recipe!
Ingredients:
5 strips of Midamar Turkey Bacon (aka turkey breakfast strips)
1 package of sno pac southern style hashbrowns
1/2 package of sno pac spinach
1-2 tbsp vegetable oil
1/2 red bell pepper, chopped
1/2 small yellow onion, chopped
1 tbsp unsalted butter
1 1/2 cup Leftover thanksgiving turkey, chopped
3/4 - 1 cup of leftover stuffing
1/2 cup leftover gravy
1 egg, optional
Instructions:
1) Heat vegetable oil in a large pot, once shimmering add bell pepper and onion. Cook until onion begins to turn translucent. Add Turkey Bacon and fry for 3-5 minutes
2) Add southern style hashbrowns, 1 Tbsp unsalted butter, and spinach. Stir until thoroughly combined. Cook for 5 - 8 minutes
3) Add leftover turkey and cook for 3 minutes. Add stuffing and gravy, stir to thoroughly combine and cook for another 5 minutes, or until hash starts to brown as you stir.
4) Serve topped with a sunny side egg or scrambled eggs and enjoy!