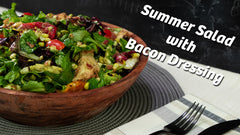 Hello and welcome to another edition of Cookin' with Cass! Today, we're embracing the spirit of summer with a tasty summer salad with roasted peppers, grilled corn, marinated chicken, and we're topping it all off with a home made bacon salad. As usual, we're only using Midamar's high quality, natural wood smoked Halal breakfast beef to make the dressing. If you want to cut the calories down, or if you just prefer turkey, try our turkey bacon instead! We use the same all natural smoke process that makes our turkey bacon some of the best on the market!
Now, let's get to notes for this recipe. If you like it really hot, I'd suggest adding about 1/2 tsp to 1 tsp of cayenne pepper to the hot bacon dressing while you whisk. The red pepper flake do add some heat, but cayenne is a historically easy way to pump up the heat index of anything you make. 
The chicken is the most versatile part of the whole meal. You can use our marinade here, you can lightly season it with your choice of seasonings, or you can cut it entirely! The choice really is yours. I think that almost any variation of marinade or seasoning would work with this salad as well.
Then we have the grilling! We found that the corn took the longest time to cook, probably around 10-20 minutes or so and the peppers took the least amount of time. This was my first time roasting peppers, and I must say, it was a lot easier than I anticipated. I thought that I would have to watch them very carefully and I thought peeling them would be a pain but, neither were true. I checked on the peppers every few minutes, and flipped them once I thought the exterior was charred enough. Once they were cool, the charred skin peeled right off with very little effort. All in all, I will certainly roast peppers again, who knows we may even experiment with roasted pepper hummus some day...
Finally, we have the mixing of the salad. Because I made such an enormous salad, I decided to use our biggest mixing bowl. Normally, I'd say tossing a salad is the best way to mix it up, but when you're dealing with this many ingredients, I think it's best to glove up and mix by hand. You could use tool to stir and mix, but sometimes, the most effective tool is your own two hands! For me, this is one of those occasions. However, if you did want to use a tool I would suggest wooden spatulas.
And that's it! Another recipe done and dusted. If you'd like the recipe card, you can find it below or, if you'd prefer to watch a video, you can find that below as well! Make sure you check out our youtube channel as well, we've got well over one hundred recipe videos!