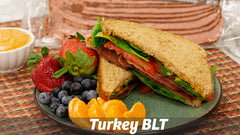 TURKEY BREAKFAST STRIPS ARE BAAAAAAAAAAAAAAAAAAAACKKKKKK!!!!!!!!! Alright, I got the excitement out of the way. We've been getting messages for months asking where out turkey strips are and when they're coming back, and after working diligently with our suppliers and producers we finally have a new and improved product that I am quite proud of, and what better way to reintroduce a favorite than with a classic Halal breakfast?
Let's speak plainly, a sandwich isn't exactly the most exciting thing to watch be made on camera. You have your bread, you have your meat, your have leafy vegetable, and kaboom, you've got a sandwich. However! This time we're going to be making a nice medium spicy chipotle mayo. Now, this recipe calls for only 1 chipotle pepper but I bought a can of them in adobo sauce and now I've got a ton of chipotle's that I need to find a use for, so if you can find a single dried chipotle or bag of dried chipotle's to keep for some other use I'd suggest that. To get a dried pepper ready for the mayo all you need to do is rehydrate in a pan with some water over medium heat for around 5 minutes or so. I don't usually time it when I rehydrate, I go more on feel. If it feels soft I call it good, so maybe base it on that instead. The adobo sauce is a nice add but after opening a can of peppers you only have so long to use them.
But the real star here is the turkey breakfast strips. I recently learned that if you want to get your turkey strips to have a little more crunch it helps to fry it in a little bit of oil, and I was pleasantly surprised with the result when I tested it before filming. It kept the nice smokey flavor while also crisping up nicely. I've also heard that it doesn't increase the calories too much because turkey doesn't absorb the oil as much but, I don't know enough about turkey oil absorption to dispute that claim, but it does help it crisp nicely!
All in all I love this sandwich. It's spicy, its leafy, it's turkey-y, and it gives me something special on a Saturday morning. I hope you all love this sandwich as much as I do! To watch me make this recipe check out the video below or keep scrolling to get the full written recipe.
Ingredients:
4 Slices Midamar Turkey Breakfast Strips
1/8 tsp salt
½ tsp Chili Powder
1 tsp Smoked Paprika
1 Tbsp Water
½ cup Mayonnaise
1 Chipotle Pepper in Adobo Sauce (or more if you want it hotter)
2 Tbsp Canola Oil
1 handful of spinach
2 slices of tomato
2 slices of Whole Wheat Bread
Instructions:
1) Combine spices, mayo, lime, water, and chipotle pepper in food processor and process until homogenous, about 1 minute
2) Pour 2 Tbsp canola oil into nonstick pan and heat until shimmering, add breakfast strips, cook to desired crispiness and remove to a paper towel lined plate
3) On a large cutting board assemble sandwich; be sure to spread mayo on each piece of bread to keep the spinach in place. Next place breakfast strips and tomatoes, and top with second slice of bread
4) Serve with fresh blueberries, strawberries, and mandarin oranges
That's it for me this week, check us out on Facebook and let us know if you made this and how you made it your own! Be sure to check us out on Youtube and follow us on Instagram as well to keep up on all of our delicious Halal recipes. Thank you from all of us Midamar!