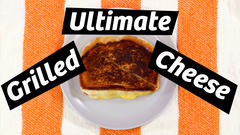 Ultimate grilled cheese, adult grilled cheese, I've read several different names for this but, let's face facts. It's a grilled cheese with stuff on it, and it really doesn't need to be more complicated than that. There's the saying that, "less is more," and this almost one of those cases. 
Really, all we're adding to this recipe is bacon. Thus, this sandwich joins the pantheon of bacon recipes. The cheese is really the star of the sandwich though, so we're going to be looking at a few different cheeses here.  I'm going with three different types, but you can use as many as you'd like. I've got havarti, gouda, and a mild cheddar. Now, normally I tell you to always shred your own cheese, and that is true even in the case of this sandwich, however. This time, I'm going for simplicity and time effectiveness, so we're going to be using pre-sliced deli style cheese slices. Shredding your own cheese will certainly result in faster melting and better cheese pull, but you also have to shred it and we're here for speed. From there, we slice 2 strips of beef bacon in half and fry them up quick. Now, if I was making this at home I would drain the bacon fat, but my dad thinks it's a waste. And, he's right. Saving and using bacon, and other types of fat, is a storied tradition across the world, but sometimes? I just want to be marginally more healthy, for that reason I'll say that frying this sandwich in butter *and* bacon fat is optional. Definitely need one or the other though. 
Then you stack your sandwich, fry it up, cover with a lid to help melt the cheese, and boom. Serve it with tomato soup and enjoy! If you want to see me make this, check out the vid below or keep scrolling to see the full recipe.
Ingredients:
2 slices of bread
2 tbsp butter, at room temp
2 slices of beef bacon, cut in half
1 slice of havarti 
1 slice of gouda
1 slice of mild cheddar (or use whatever cheeses you prefer)
Instructions:
1) Fry the bacon to desired crispness and remove to a plate to drain, reserve bacon fat(optional) 
2) Place 1 slice of bread down, layer cheese, 2 bacon slices, another layer of cheese, the remaining bacon, the last slice of cheese, and finally the bread.
3) Spread 1 tbsp of butter over the butter, flip and spread the remaining butter on the other slice. 
4) Place sandwich in the same pan the bacon was cooked in, fry over low heat and cover with a lid. Flip occasionally.
5) Serve with tomato soup and enjoy!