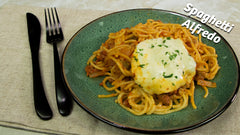 This week we decided to take another look at trendy recipes and I think we found one that's a real winner! This time we'll be making a creamy alfredo sauce and topping with a beefy marinara filled with onion and peppers. 
This recipe really surprised me. If we're being frank, most viral trends are convenient and quick but, the taste is rarely something worth remembering. This dish, however, is extremely good. Full disclosure, I love pasta so I may be biased but, I challenge you to make this meal and tell me it's not great! There's nothing to not love. Want creamy, cheesy sauce? got it. Want beefy halal marinara? got it. Want cheese and noodles? Once again, you got it. To further this point, usually when we make something here at the Midamar studio, we end up having a lot leftover that our production team has to take home. But not with this recipe. It was gone by lunch time the next day, which is usually a sign that a recipe is pretty good. This recipe isn't just all taste though, it's great for what it teaches you as well. 
For starters, if you make this recipe you'll learn how to make beef marinara and easy alfredo sauce. We'll be combining those two here, but if you made them on their own and added noodles or chicken, then you've got a meal! We just take it a step further here and we place both the alfredo sauce, noodles, and Halal ground beef in the same casserole dish and bake it with slices of mozzarella over the top. 
With that, I think I'm going to sign off and give you all the recipe! If you want to see us make this, click here; otherwise you can find the full recipe below and you can get all your high quality halal meats here on Midamarhalal.com!
Ingredients for marinara sauce:
1 tbsp butter
1 green pepper, cut into bite sized pieces
1 yellow onion, cut into bit sized pieces
1-2 lbs of Midamar 80/20 ground beef
1 tsp garlic powder
1 tbsp Italian seasoning
1 tsp onion powder
1 tsp white pepper
1/2 tsp crushed red pepper 
1 jar of your favorite marinara sauce
Ingredients for the alfredo sauce:
1 stick butter
3 cloves of garlic, minced
2 cups of heavy cream
1 cup parmesan cheese, shredded
8 oz thin spaghetti, cooked
12 slices of mozzarella or 2 cups of shredded mozzarella
fresh chopped basil, optional
Instructions:
1) Melt 1 tbsp butter in a pan and add onion and peppers. Cook until onion and peppers are slightly tender, then add ground beef. Cook until ground beef is lightly browned then add seasonings. Cook until no pink remains in the ground beef. Finally, add marinara sauce and bring to a gentle simmer for 5 to 10 minutes. Remove from heat and set aside
2) In a separate pot melt 1 stick of butter and add 3 cloves of garlic, minced. Cook until garlic is fragrant, then add 2 cups of heavy cream. Cook over medium heat, stirring constantly. Once cream is bubbling, slowly add parmesan. Make sure all parmesan is melted before adding more. Once all parmesan is incorporated and sauce is thick, remove from heat.
3) Place noodles in casserole dish and cover with alfredo sauce. Using tongs, or 2 forks, coat noodles in alfredo sauce, then pat flat. Cover with marinara sauce, spread sauce until flat across noodles.
4) Top with mozzarella, sprinkle with basil then bake at 350° for 15-20 minutes  or until sauce is bubbling on edges. Remove from oven and let rest for 5 minutes, serve with garlic bread and Sno Pac Vegetables available here!