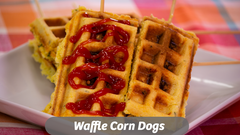 This week we decided to take a covid friendly trip to the state fair by making some fair food at home, and, though it wasn't as good as being there in person, this is still pretty great. Corn dogs are, without a doubt, one of my childhood favorites. It's fried (usually), it's a hot dog, it's on a stick, what else can a kid need? Not much, but I'm a grown up now and I'm more health conscious than I was as a boy, so we're ditching the fryer this time and going waffle style!
I was surprised how much I liked this, the muffin mix makes this extremely easy to make, which I love. I filmed this whole video in about an hour and half, usually it takes all day to film a recipe, and that's just because I was recording! I made this at home the next day and I made a whole package of campfire grillers into these tasty treats in about 30 minutes, so this will be a quick and easy recipe for the hungry kids this weekend!
That's all I've got for today, keep scrolling for the full recipe or watch me make this in the video below!
Ingredients:
2 boxes of corn muffin mix (about 17 oz)
1 cup sour cream
1 cup cheddar cheese
2 tbsp chives
2 large eggs
2 campfire grillers, cut in half lengthwise, then cut in half width wise (see video if unclear)
8 wooden skewers
Instructions:
1) Preheat waffle iron. Combine the first 5 ingredients and mix thoroughly, a rough dough should form. 
2) Stick skewers through campfire griller portions 
3) Spray preheated waffle iron with non-stick spray and place 1/4 - 1/2 of muffin dough onto waffle iron. Place skewered grillers on muffin mix, top with remaining muffin mix and close waffle maker. Cook until golden brown or until grillers are fragrant. Serve with Ketchup and enjoy!