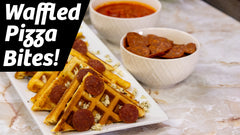 Two years ago, we made our first Waffle Pizza recipe video and it performed quite well, so we thought it would be a good idea to revisit it and change it up a bit! 
This time we're going to use tubes of crescent rolls from the store. Using these makes the recipe even easier, and who doesn't love easy pizza? Next we shred a block of mozzarella cheese and season it with basil and oregano. You can use pre-shredded mozzarella, but shredding it yourself is generally more cost effective and the cheese will always melt better, but either works here. Next, we top with Midamar's Halal All-Beef Pepperoni, next time I make this I think I'd double up on the pepperoni. Let's face it, that's the best part right? then we top with the remaining crescents, toss it in a preheated and greased waffle iron, cook for 4-5 minutes, cut into triangles and that's it! Serve with your favorite pizza sauce and enjoy. 
I really like this recipe because not only is it easy, but it's great for 1 or 2 people too. One tube could likely be enough for 1 person, not to mention you could use any of our high quality Halal pizza toppings: seasoned beef topping, salami, taco seasoned beef, whatever you prefer!
That's it for me! Want to watch me make this? Click here! Otherwise, keep scrolling for the full recipe!
Ingredients:
1 lb Mozzarella Cheese, freshly shredded
2 tubes of crescent rolls
Pizza sauce
Midamar All-Beef Halal Pepperoni
1 tsp basil
1/2 tsp oregano
Instructions:
1) Combine cheese and herbs in a large mixing bowl. Remove crescents from tubes and lay out in rectangles. Close perforated edge, layer with cheese and pepperoni, top with another crescent and crimp closed with a fork
2) Place crescent pizzas in a pre-heated and greased waffle iron, close and cook for 4-5 minutes. Remove waffles, cut into triangles and serve with pizza sauce