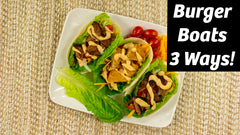 Looking for a quick and easy dinner for your kids? Teach them that cooking can be fun with this kid approved burger boat recipe!
In this recipe we take show how to use Midamar's Halal Chicken Patty, 100% Beef Burger, and Seasoned Beef patty. Use your favorite or try it with all three! This recipe is fully customizable, all you have to do is add or substitute your favorite toppings. Try with Midamar Breakfast Beef or Turkey Strips!
Want to see how to make this? Click here! Or keep scrolling for the full written recipe.
Ingredients:
3 Tortilla Boats
5-6 Cherry or Grape Tomatoes
Lettuce
Onion, finely chopped, optional
Cheddar Cheese, freshly grated 
1/2 cup Mayonnaise
1/2 tsp Garlic Powder
1/4 tsp Paprika
1 tsp Sriracha, or more to taste
Instructions:
1) Air fry chicken patty at 400 for 4 minutes and grill burgers for 3-4 minutes per side (times are dependent on your air fryer and grill)
2) Cut patties and burger into 6ths
3) Place tortilla, lettuce, cheese, tomato, onion, chicken or beef patties/burgers, and top with home made sauce
4) serve with healthy organic Sno Pac Vegetables and enjoy!