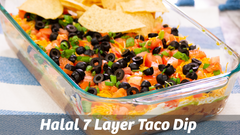 Ladies and gentlemen, boys and girls, come one and come all to see this tasty lil side dish. We're lookin' at a classic today folks, the 7 layer taco dip! "But Cassem," you say, "how do we make such a zesty dish? Will it not take days?" to which I say humble viewer… "nah, it's super easy."
Jokes aside, this dip is extremely simple and it satisfies the need for not only tacos, but dip. That's what we call a two-fer! This time I decided to keep it simple and rather than make my own refried beans like we did for the smothered burrito, I thought I'd try canned pinto based refried beans this time. Best make sure it's vegetarian though, some I saw at the store had lard. That said, if you did want to make it yourself it would still be pretty easy to make. Plus, fresh made anything is better than store bought but, we don't always have time!
No matter how you choose to make this dish, it's quick and easy. Play the video below to see how I made this or keep scrolling for the written recipe!
Ingredients:
5 Tbsp Taco Seasoning, divided
¾ cup of water
2 16 oz cans of vegetarian Refried Beans
10 oz can of Diced Tomatoes
16 oz Sour Cream, whipped
Guacamole
Mexican Cheese
Diced Roma Tomato (only 1, that should be plenty unless you really love tomato)
Black Olives
Green Onions
Instructions:
1) Combine refried beans, can of diced tomatoes, and 2 Tbsp's of taco seasoning and mix thoroughly.
2) Cook Ground Beef with remaining taco seasoning and water until no pink remains, about 10 – 15 minutes
3) In a large glass serving dish layer: refried beans, taco meat, guacamole, sour cream, Mexican cheese, diced tomatoes, black olives, and green onions. These can be layered anyway you choose but I suggest the beans as the base.
That's it for me this week, check us out on Facebook and let us know if you made this and how you made it your own! Be sure to check us out on Youtube and follow us on Instagram as well to keep up on all of our delicious Halal recipes. Thank you from all of us Midamar!