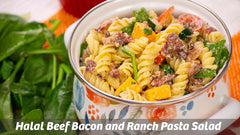 We're midway through June and so we've got to yet another Halal side! This time we're making Pasta Salad. As a child, pasta salad was a bit of an enigma, I liked it but, I didn't, but at times I did? Truly a culinary conundrum but, now that I'm a grown up I've decided that it's, ya'know, it's okay. I thought I'd like it more if I gave it a lil twist, gave it a lil pizzazz, and that comes in the form Halal Breakfast Beef! Not to mention, this is a great last minute side that can be brought to summer cook outs, work pot lucks, and family picnics. Not to mention, the "ranch" flavor isn't strong because you're making the seasoning blend yourself. That said, if you do want a more traditional ranch flavor I would probably half, or omit, the mayonnaise and then add ¼ cup of ranch, or ½ cup if you completely omit the mayo.
All in all I was pleasantly surprised with this, usually when I have this pasta salad it's way too much sauce and it lacks breakfast beef, which is a tragedy but, this has a light amount of sauce which I personally prefer. As per usual I had people around the office give this a try and the only critique I received was that there was a bit too much garlic powder, so if you don't care for garlic as much I would half that. Also, I forgot to add Sno Pac Peas in this recipe, but they would improve an already great recipe! If using these, prepare according to package instructions then rinse with cold water and add to your pasta salad and mix, easy as that.
But that's it for me this week, check back next week to see our brand new Halal recipe! If you want to see how I made this, click the video below or keep scrolling for the full written recipe.
Ingredients:
1 package Midamar Halal Breakfast Beef, cooked and cut into bits
1 tsp Garlic Powder
1 ½ tsp Dried Chives
1 ½ tsp Dill
1 tsp Onion Powder
1 cup Cherry Tomatoes, quartered
1 cup Cucumber, cut into small cubes
1 cup Sharp Cheddar Cheese, cut into cubes
1 box of Rotini, cooked and rinsed with cold water
1 handful of Spinach, or to taste
½ cup Mayonnaise
½ cup Greek Yogurt
½ tsp salt
¼ - ½ tsp of ground black pepper
Instructions:
1) Cook Breakfast Beef to desired crispness and cut into bits. In a large mixing bowl, combine all ingredients, mix well with tongs or gloved hands and serve with Midamar 100% Pure Beef Burgers, Halal Seasoned Beef Patties, and Midamar Franks and Links!
That's it for me this week, check us out on Facebook and let us know if you made this and how you made it your own! Be sure to check us out on Youtube and follow us on Instagram as well to keep up on all of our delicious Halal recipes. Thank you from all of us Midamar!