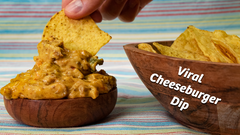 Many moons ago, we released a recipe so powerful... that it could not be contained. By that, I of course mean that everyone in the office devoured it before it the end of the day, it was that good. Now, we're reaching back into our vault of recipes and pulling out another recipe full of cheesy goodness! This week, we're making Smoked Cheeseburger dip. This smokey dip is chock full of tasty fillings like jalapenos, pico de gallo, and the pièce de résistance: Midamar's high quality Ground Beef!
The best part about this recipe? How easy it is to make! Simply cook the ground beef, add all your ingredients to a large baking dish and slow roast it to perfection. Plus, we add some liquid smoke to give our dip more oomf. Don't feel like cooking ground beef? Skip it! Try this recipe with our taco seasoned ground beef for a quick and easy dip for any occasion.
Want to see us make this? Click here! Otherwise, find the written recipe below.
Ingredients:
2 lbs ground beef or taco seasoned beef
1/2 cup salsa
2 lbs velveeta
6 oz colby jack cheese
1-3 jalapenos, diced
1 packet taco seasoning (skip if using taco seasoned beef)
1/2 tsp liquid smoke
Instructions:
1) Cook ground beef until lightly pink, add 3/4 of taco seasoning packet and cook until no longer pink.
2) In a large glass baking dish, place all ingredients and remaining taco seasoning (if using) and bake at 250° for 1 hour. Remove from oven, mix and serve. For thicker dip, bake for an additional 30 minutes - 1 hour.