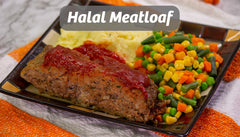 This week we're keeping it simple, homestyle, midwestern favorite, the meatloaf! This meal served with vegetables, preferably any of the Sno Pac veggies that we sell here at midamarhalal.com, and mashed potatoes of any kind. I personally really like chive and onion mashed potatoes, but this time I thought I'd try garlic and herb mashed potatoes. Now, the mashed potato recipe isn't included in this post, however, if you want that recipe head over to this recipe and scroll down past step 7 to find my grandmother's mashed potato recipe. If you do look to that post, you'll see that the main flavoring ingredient is cream cheese, and so long as you use a cream cheese that is savory and/or not fruit based, you should be good. No promises on garden vegetable though.
Anyway, back to the meatloaf. This meal is really as simple as it seems, through some seasonings into some ground beef, bake it, prep your sides, and serve. It's a great, "I'm tired after work and really don't want to cook but, eating out doesn't sound good," kind of food. Total cook time is probably around an hour for the whole thing, depending on how you cook everything. Not only that, but if you use 2 lbs of ground beef like I did then you'll have plenty extra. In fact, usually I end up with some leftovers here at the office when I cook but this one was completely gone. So it's gotta be pretty good, right?
Find out for yourself! To watch me make this click the video below or keep scrolling to get the full written recipe!
 Ingredients:
2 lbs Midamar 80/20 Ground Beef
Sno Pac Organic Mixed Vegetables
1 Tbsp Butter
1/2 Yellow Onion
2 large Eggs
3/4 cup Milk
3/4 cup Breadcrumbs
1 Tbsp Hamburger Seasoning
2 Tbsp freshly chopped Parsley
1/4 cup + 1 Tbsp ketchup, divided
1/4 cup Chili Sauce
Salt and Pepper to taste
Instructions:
1) Melt butter in a pot and add onion. Cook until translucent and just starting to brown. Remove from heat and set aside. Preheat oven to 350°.
2) In a small mixing bowl, combine egg and milk, then whisk thoroughly. Once combined, add bread crumbs. Stir to combine then let rest for 15 minutes.
3) In a large mixing bowl combine: meat, parsley, hamburger seasoning, onions, and 1 tbsp ketchup. Using gloved hands, mix with hands being sure not to overmix the meat.
4) Add in breadcrumbs, salt, and pepper, and mix with hands again, being sure not to over mix.
5) On a lined baking sheet place meat mixture and form into a loaf shape, once formed, place meatloaf into oven and bake for 40 minutes.
6) Meanwhile, combine remaining ketchup and chili sauce and whisk to thoroughly combine. 
7) After 40 minutes, remove meat from oven, pour sauce mixture over top and bake for an additional 15 minutes. While this bakes, prepare your Sno Pac Organic Mixed Vegetables
8) Optionally, after 15 minutes turn on broiler and let cook for about 2 more minutes.
9) Remove from oven and let sit for 10 minutes. Serve with mashed potatoes and veggies!