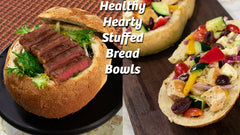 Spring is here and we're ready for warm weather, picnics, and halal salads! This week, we're making two types of tasty bread bowl salads that are easy eats. To start, lightly fry up some onions, peppers, and mushrooms and set them aside to cool. Then we use United Steaks of America's Halal certified strip loin, and fry that with some salt and pepper to a nice medium rare. That's the steak, but what about the chicken?
The chicken we cook very simply with salt and pepper as well, but what we serve it with makes all the difference in the world! I took some inspiration from Greek style salads and decided to toss together some crisp cucumbers, sliced red onion, add some color with red and yellow peppers, and cover it all in my personal favorite Greek style salad dressing. We also have cherry tomatoes, kalamata olives, and a block of feta cut into bite sized pieces. My brother tells me all the time that, "no one likes kalamata olives like you do." While that may be true, I have to tell you, my favorite part of this whole salad is how the feta, the kalamata olives, and the chicken all come together with other ingredients.
But we haven't discussed the bread bowl itself, and it is a crucial part! For the steak salad; when we remove the bread to create the bowl, we'll cut that bread into bite size pieces and bake them on a low heat for awhile to create our own croutons. Croutons are great in many things, and there are a variety of different ways to make them. This time, we opted to leave our croutons unseasoned, but a little bit of olive oil, garlic salt, and onion powder, go a long way. For the Greek inspired salad however, we decided not to use croutons but rather, we thought it would be nice to tear off a little piece of bread and kinda use the bread bowl like a dish or just as a side for the salad.
Have any other ideas for bread bowls? Let us know on our Instagram or Facebook!