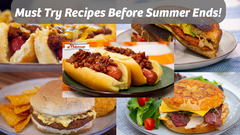 Alright, this is the first time we've done a top 5 and I'm excited! That said though, all these recipes are great in their own ways, and this is all my personal opinion. If you want to find the full recipes for these, click the title and it'll take you straight there! Without further adieu, let's go!
This is something I still make to this day! It's simple enough for a weekend breakfast or brunch and it's kind of "plug n play" with the ingredients. Don't like alfalfa or broccoli sprouts? Try spinach. Don't like garden vegetable cream cheese? Try honey mustard or bbq sauce. Don't like American cheese? Try your favorite deli cheese! The options are limitless and that's what makes this one of my all-time favorite recipes!
This is an oldie but a goodie! It's quick and easy to make the chili, and you can make it as spicy or mild as you'd like, and it's delicious… so long as you use Midamar's ground beef and beef franks…
This is another great one for kids and adults alike! When I make this I tend to make a little more of the spicy mango sauce because it's so good. For this recipe we glaze the chicken with a honey soy sauce mixture and bake it twice to get a nice coating. Top it off with the spicy mango sauce and a little bit of thinly sliced cabbage to get all the delicious flavor of Asian food with your halal chicken patties.
Now, this one isn't too old, but it's way too good to pass over! We've improved the grind of our Campfire Griller, "but Cassem," you say, "what exactly does that mean? I don't make hot dogs," Well kind reader, I will tell you! Before we used an old world coarse sausage grind but based on customer feedback we've changed to a traditional finer grind so that the Camprfire Griller has the same feel as our hot links and beef franks. So now you'll have a nice smooth bite to pair with your delicious halal bbq bacon baked beans!
Last, but certainly not least, is the avocado turkey bacon grilled cheese! I have to say, I was skeptical about this recipe at first. I know avocado is used on sandwiches often but I typically don't use it… but people change, and let me tell you, I am not the man I once was. This sandwich is simple, it's warm, it's avocado-y, it's halal turkey bacon-y, and for that reason it is now a permanent member of the "I'll Make That This Weekend Club," or the IMTTWC as we call it. No one actually calls it that, but I am trying to get it to take off. No matter when you have this sandwich it is simple and delicious for any and all who partake!
And that's it! Our first top 5 list compiled, explained, and now my mouth is watering! I hope you try these recipes, and if you do, head to our social media and let me know what you thought! To see how I made these recipes check out the video above!