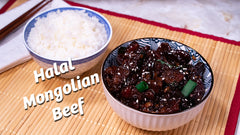 Mongolian beef is a classic at most Chinese restaurants. The savory, umami filled sauce is made even better with a little bit of onion that takes this recipe from a tasty to delicious. This time around, we decided to try making it only with green onion, but there are several local restaurants that have this dish on their menu, and after checking out pictures, it looks like most of them also use sweet yellow onions. While I omitted them this time, next time I make this dish, I am planning on lightly caramelizing some onions with the ginger and garlic while making the sauce. The crunch of the onions in the final dish will make this already delicious halal version even better.
This time however, we opted for a simple breading of salt, pepper, and cornstarch for our beef. I have not made this with chicken, however, I think that the steps would be largely the same. Once our beef, or meat of choice, is coated in the breading, we prepare the sauce. We start by sauteing the ginger and garlic in a little bit of oil, just until they are starting to lightly brown. If you're making yours with yellow onion, don't add the ginger and garlic until the onions have softened and started browning a little bit. If you throw it all in at the same time, your ginger and garlic will burn before your onion is fully cooked. From there, we add our soy sauce, brown sugar, water and hoisin sauce. A small note, most recipes that I've seen for this do not include hoisin sauce, however, I've found that whenever I make Chinese food of any kind, a little bit of hoisin goes a long way. Usually all you need is a tsp to a tbsp and you'll have a much more rich and dynamic sauce. 
And that's it! It's easy, it's delicious, it's in my top 5 of recipes I've ever made for our blog. And with that, I'm outta here! Check out the video below or find the written recipe below!