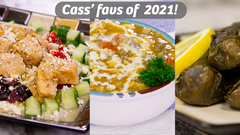 It's the last two weeks of the year. It's a time for reflection and that means looking at my personal favorite recipes from this year! Now, I like to set expectations with clear, objective facts, which in this case cannot happen. I love cooking, I love beef, I hate beef stroganoff. My point here is that my tastes are subjective. You may love stroganoff and all your reasons as to why you love it are totally correct but, because of the nature of subjectivity, they also aren't correct to me. So, as you read through the post, please keep in mind that we may differ in what we loved, what we hated, and what we thought was pretty good. With that out of the way, here is my definitive "Objectively Correct Best Recipes of 2021." 😊
Stuffed Grape Leaves | Midamar Halal
So, let's start with a classic Cassem pick: Stuffed Grape Leaves or, grapes leaves as we call them at home. Let me hit ya with a quote: "grape leaves… I have always loved them, I will always love them." Who said this? Why dear patron, it was me circa April 30, 2021. And this is still accurate. When I was kid, we'd have big family dinners and my Sitti would make all kinds of food. With hummus, lubiah (which we call lubee), and, you guessed it, grape leaves. Now when I was probably 8 or 9, we went over there one night and I remember my Sitti set the great, big pot of grape leaves down on the table. Her and I were in the kitchen alone and she told me to take one before everyone sat down to eat. Now, she knew I loved grape leaves and I'm sure she saw me eyeballing them, but that gesture has stuck with me ever since. Every time I make these and enjoy them, I'm reminded of a simpler time, a time when most of my family still lived in town and the times we all shared together. For that reason, and the taste, these forever will be the best food in my life.
Butternut Squash Soup with Halal Italian Style Sausage! | Midamar Halal
This was a surprise hit for me, as far I knew at the time, I had never had butternut squash. I knew a lot of people loved it though and I just so happen to be one of those people! I do not like soup… usually. Stew is okay, but it's very rare that I think, "you know what I want? Soup." But I think that with this recipe. Often. If I was to change anything about this recipe it would be additional vegetables. Yes, it's got the squash, corn, and bell pepper, but I really think that either sno pac peas or the mixed veggie blend would be awesome in this. If you puree this, it'll make feeding veggies to kids really easy, the only thing to be concerned about in that case is how the peas will affect the color of the soup as a whole. Personally, that stuff doesn't bother me when I'm cooking for home… a lil different for work though…
Instapot Greek Chicken with Couscous! | Midamar Halal
To keep on the "simple after work recipe" theme, I'm showing off the Greek chicken. It does have the prerequisite of having an instant pot but, it's worth it. This recipe is pretty healthy, it's refreshing with cucumbers and tomatoes, and the kalamata olives? They're the best part. My brother tells me that I shouldn't use them in recipes for work because no one likes them as much as I do. Which I get but, he's wrong and doesn't know anything 😉 in seriousness though, this is a light dinner that works anytime of the year.
Italian Meatball Sub | Midamar Halal
This is a classic, there used to be halal place in town that would make killer meatball subs and when I was in high school? I'm tellin' you, I was getting these regularly. When they closed, I decided it was time for me to learn how to make it. With our meatballs? It's extremely easy. In fact, I made this recipe relatively complex. I didn't have to make my own tomato sauce and all that other stuff. I could have, and did actually, make a much simpler version with jarred marinara sauce and hoagie buns not toasted. Can't skimp on the cheese though, you gotta do that part right. That said, if you've got a little extra time and you want to have a simple and incredible meatball sub, use the recipe I've linked above. Not to mention, that sauce can be used anytime you'd need marinara; spaghetti, lasagna, whatever. It's good stuff.
Cheeseburger Soup | Midamar Halal
Okay, the name of this soup turns people off, which I get. I feel like "cheeseburger" is inaccurate but, I don't know a better way to say it. "Potato soup with cheese and veggies and ground beef," doesn't really roll off the tongue very well. I had to convince everyone here at the office to try it, in part because of the name, but once they did? They loved it. In fact, usually I have some leftovers for lunch the next day, but this stuff was gone in less than an hour if I recall correctly. Give it a shot, I made it in March this year and it's getting cold again so…
Halal Birria Tacos by Cooking with Cass | Midamar Halal
I love Mexican food in all forms, and it breaks my heart that there's so much of it that we can't eat. So, I decided I wasn't going to deprive myself of the tasty tastes that exist and for that reason we have the halal birria taco. Now, full disclosure, I didn't quite make this right in the video. I didn't let it cook long enough so the meat was pretty stiff. I have since learned that chuck roast gets more tender the longer it cooks, so if you make this make sure you check it every so often and once it pulls apart easily with a fork it's ready. It'll make this meal even better than it was, and I liked it when it wasn't made as a pulled beef taco.
Bacon Wrapped Pretzel Burger! | Midamar Halal
Okay look. I don't know you, but I have to warn you. This burger is extremely unhealthy, however, It is also extremely tasty. I don't like putting bacon on everything, ironic I know but, I really don't. But a burger really is something that always works with bacon, especially in this case. The French fried onions, smoked cheese, and condiments make this burger something that you make once a year but it's also something you may look forward to all year.
Sausage Stuffed Acorn Squash! | Midamar Halal
Okay, I know this one isn't fair because it was last weeks video, but you have to understand, this has been a year full learning about squash. I learned that sausage can work with squash and cranberries, I learned that I like acorn squash, and I found out that I have actually eaten acorn squash before. My mom told me I had eaten but had never told me… classic mom moves, really. That said though, this was awesome, I really liked the walnuts in it but people around the office disagreed so uh, do what you see fit. Don't skip out on the cranberries though, it's real subtle but it's real tasty.
I could go on, but I won't. Eight recipes is like… two months-worth of our vids so… that's a lot. These are some of my favorites from the year and they don't even include things like chili cheese fries from the big game recipes or the smoke house dog from the memorial day cook out vid. Obviously, I'm biased here because I make all these videos and recipes but I really think everything we put out on here is really good. I sincerely hope that you like these recipes that we put out, and if you're cooking for your family I hope they like them too. All in all, food is something that brings us all together and is sometimes the catalyst for great memories and I hope that some of the recipes that I share with you bring some of those good times into your life.